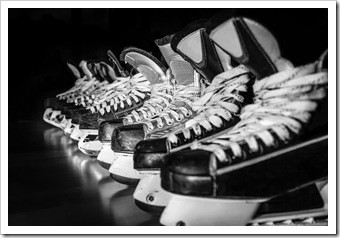 The smell of the ice.  Some find no bigger pleasure as the sweet cold smell reaches our nose and begins the adrenaline rush for the upcoming hockey season.   If you are one of the many fans you are aware that hockey can be an action packed game that comes with several health risks due to the injuries from players colliding with each other and/or being hit by hockey sticks and skate blades.  The risk of a concussion is also extremely high with pucks traveling at speeds of up to 100 mph.  Unfortunately, the numbers of neck, back and knee injuries have increased also, possibly due to the false sense of security provided by the large amount of protective equipment used.
Where do the Pro's Go?
When National Hockey League (NHL) superstar Sidney Crosby suffered two concussions within days of one another and after nearly ten months of suffering dizziness, fogginess, instability and light sensitivity, Crosby started a specialized chiropractic care program that helped to improve both his physical and cognitive functioning.  After about 6 months of treatment, Crosby returned to the ice and assisted his Pittsburgh Penguins score a win against the New York Rangers, and the Penguins subsequently signed him to new a 12-year contract.
Chiropractic care is so vital to the Vancouver Canucks that they have a team chiropractor on staff for over 25 years. Dr. Sid Sheard, the team doctor, states, "In managing musculoskeletal problems, the team chiropractor must determine when to order the relevant diagnostic tests and imaging studies in order to give the appropriate diagnosis." Chiropractic care is not only for the treatment of injuries, it also allows the players to stay in top form. Sheard notes, "The number of games lost to injury this year is running at less than half, which we like to think is due to the preventive and supportive training that starts in the off-season."
Suited Up for Winning the Cup!
Our team is here and ready to help you and your family play full out on the ice or in the game of life.  Call today and learn how to Heal and Recover like a Pro!


For Your Health,

Dr. Joseph Gambardella, Dr. Todd Brown and Dr. Benjamin Erb